Fast Deployment
Advanced Technologies
Configured for your needs Mobile Command Gives You the Control You Need. When You Need It.
Advanced Security Solutions
From drone surveillance, to gunfire detection, to real-time weather monitoring, our suite of technologies can be deployed in about 30 minutes, maximizing situational awareness and response efficacy.
Reliable & Redundant Communications
Mobile Command ensures intelligible, two-way audio communications across your entire event site. Leverage landline over cellular or satellite, two-way radios, and cellular PTT radios.
Exceptional Support Services
Trust Sentinel's team of accredited security experts with extensive experience in Security Operations and Emergency management to partner in your success.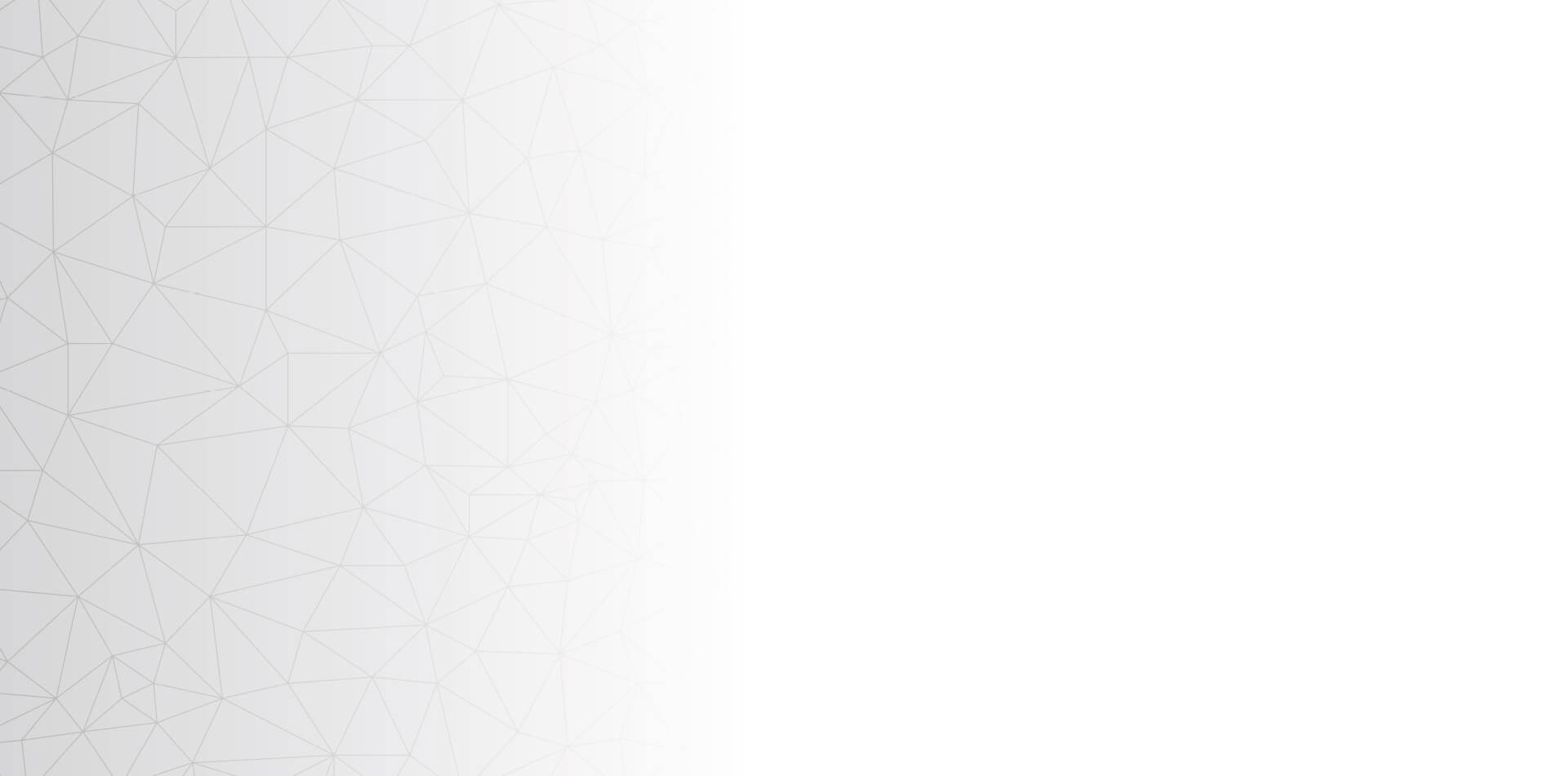 See What's on Board the Command Center.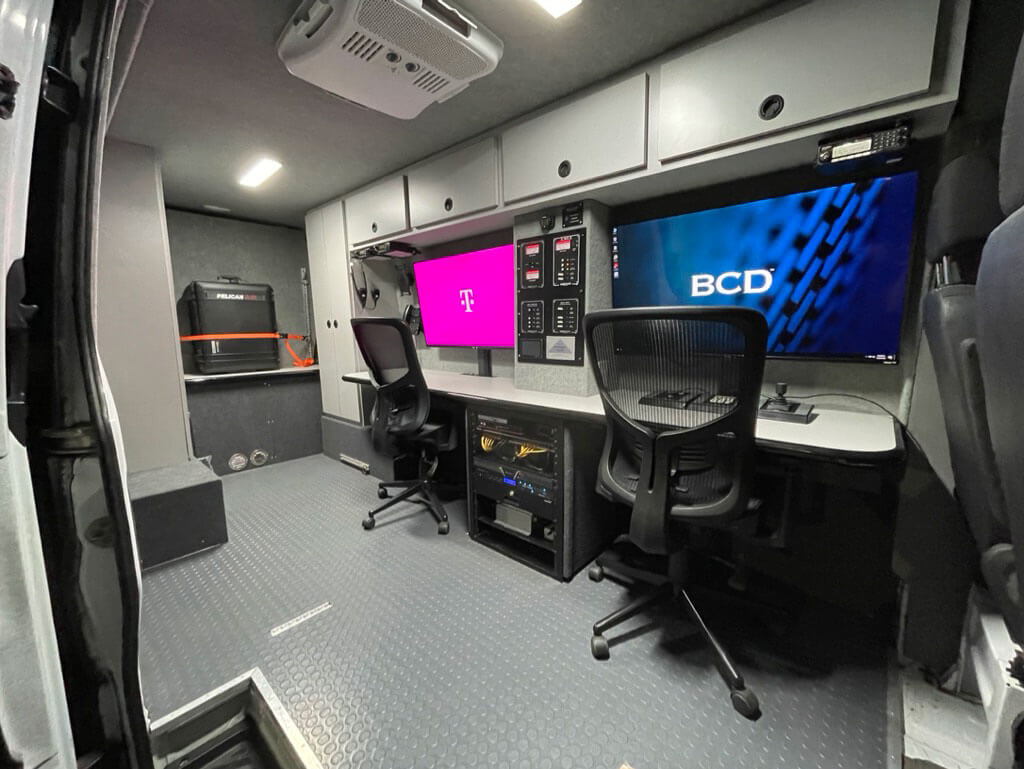 Video surveillance system
Aerial drone surveillance
Drone detection technology
Gunfire detection
Perimeter protection
Real-time weather monitoring
Social media monitoring
Landline telephone service
Two-way radios and cellular PTT radios
Satellite telephone, tv, radio
Satellite and cellular data
Professional and seasoned staff to plan and operate the event security as well as staff the vehicle if needed
Be Ready to Roll at Your Next Event. Here's How.
SCHEDULE A CALL
Get your questions answered. We'll help you evaluate whether Mobile Command is the best choice to address your needs.
SIGN UP
We offer a multi-tiered membership program designed for a range of budgets and support requirements. Let us present a proposal that's right for you.
PREPARE
Once you're a member, we'll train your team and program the vehicle so you're all set for future events.
Peace of mind comes from being prepared. Become a member today!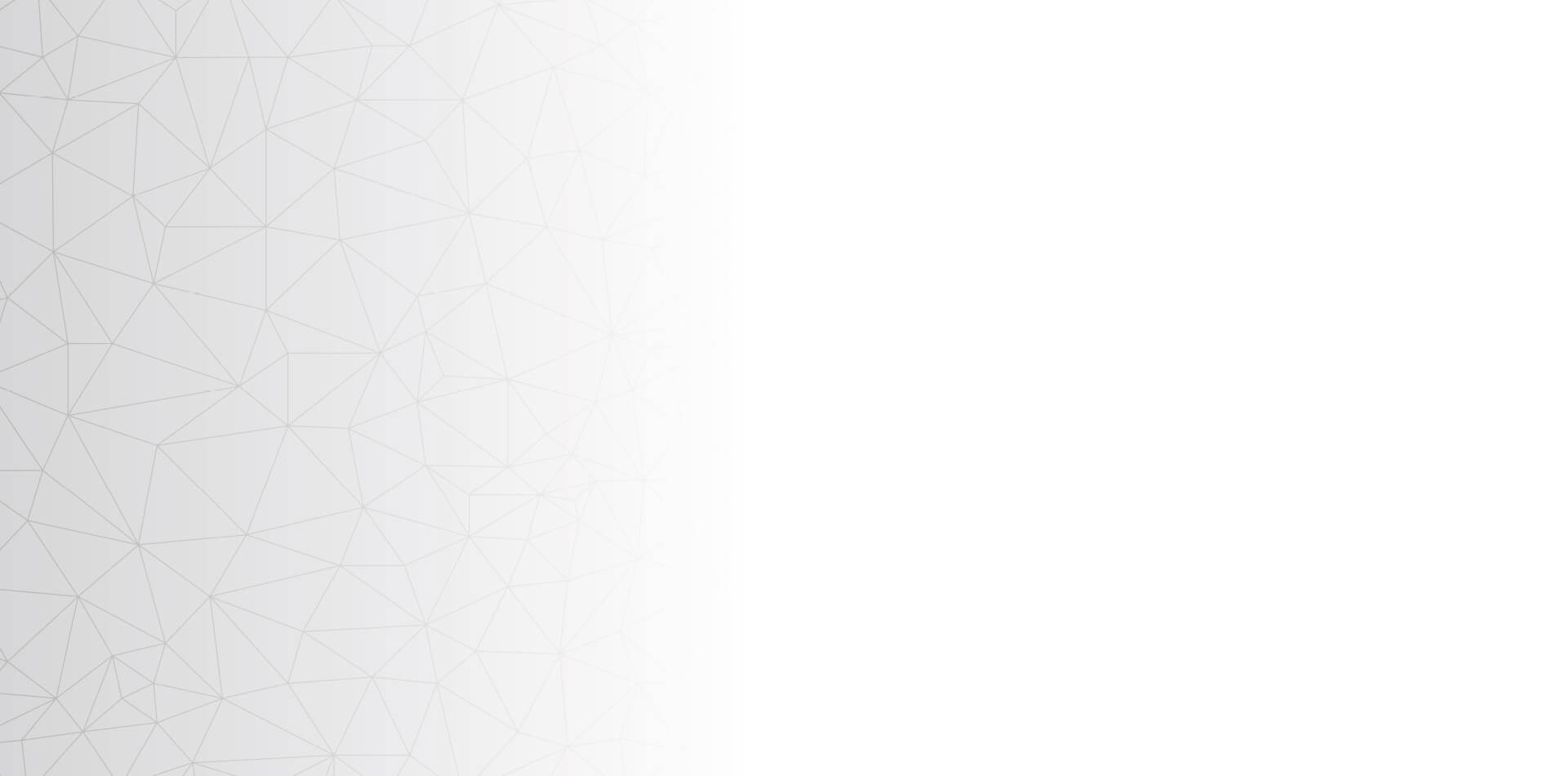 Packages
and Pricing
Nowhere else will you find this breadth and depth of command and control capabilities available as an affordable, turnkey solution.
Service Item
Service Level
Click each category for more details
Basic
Advanced
Premium
Radio Communications

(2) Motorola XPS5500e UHF and VHF Mobile base radios.

(10) Motorola XPS3500e portable handheld radios.

Use of public VHF radio frequencies.

Use of Sentinel licensed UHF and VHF radio frequencies.

Programming of client's UHF, VHF and P251 licensed radio frequencies in the Mobile Commands base and handheld radios.
Programming of client's 3rd party UHF, VHF and P251 radio frequencies in the Mobile Commands base and handheld radios.

Issuance of a Cellular PTT Two-Way Radio to your Security Team.

1 radio, 1 site
1 radio/site 3 sites

Use of (10) Cellular PTT two-way radios.

Monitoring of publicly available emergency radio frequencies.

Programming of area specific police, Fire, EMS and Emergency Management frequencies.

Telephone Communications

Use of Mobile Commands VoIP landline telephone

VoIP telephone service over cellular data2
VoIP telephone service over satellite data3

Speed dial pre-programming of clients emergency numbers, site contacts, and other management and emergency contacts.

2nd VoIP landline telephone line activation in the mobile command for additional inbound and outbound call capacity.

Unique unshared mobile command VoIP telephone number exclusive to client.

Satellite Phone, Iridium Network

o Minutes Included
15 minutes Included
30 Minutes Included
Data Communications
LTE/5G Cellular data2 per deployment on Verizon, AT&T, and FirstNet4
50gb Included
150gb Included
Unlimited
Satellite data3 per deployment
0mb Included
1gb Included
3Gb Included

Wireless mesh network deployment

Local area Wi-Fi (within 100ft of Mobile Command)

1 restricted user
5 restricted users
10 restricted users
Digital Information

Use of publicly available internet based maps and resources

Pre-loaded site and area maps of the clients subscribed locations.

1 location
Up to 3 locations

Pre-loaded client provided digital emergency plans, documents, PDFs, contact sheets, floor and site plans of the clients subscribed locations.

1 location
Up to 3 locations

Pre-programmed social media monitoring

Weather Monitoring

MobileCommand, Weather Station

Accuweather, Professional

Accuweather, Meteorologist curated

Television and Radio
DishTV - Satellite TV3

SiriusXM - Satellite Radio

Terrestrial Radio (AM, FM)

Video Surveillance System

Rapid Deployment Cameras - (10) cameras

Vehicle Mounted Cameras - (5) Cameras

Feed of drone video into the VMS

Video Analytics

Mobile phone app for streaming video to and from the Mobile Command

Stream video from the Mobile Command to a remote monitoring location

Federation of video into clients VMS (single site, Genetec) or wirelessly linking clients site VMS directly to the MobileCommand5
Intrusion Detection and Duress

Rapid Deployment Sensors with Video

Ground Based Large Area Radar Sensors

Video analytics alarm trigger

Alarm video verification

Duress button on two-way radios

Drone Detection

Deployment of RF Drone Detection Technology, Single Sensor

Deployment of RF Drone Detection Technology, Dual Sensors

Drone UAS Surveillance6

FAA Licensed Drone/UAS Pilot

High resolution telephoto camera with 32x optical and 200x digital zoom

High intensity searchlight

High power public address speaker

Light payload drop capability

Video streaming to VMS

Video streaming to offsite location

Dispatch and Response

Dispatch Priority

3
2
1

Mobilization Time

Within 5 Days
Within 48hrs
Within 24hrs

Response time

Travel Time
Travel Time
Travel Time

Member to Vehicle Ratio

1:20
1:20

Backup Command Vehicle

No
1
1

Mileage Included

0
500
1000
Operating Hours Included7
0
24
48

Training Sessions Included

0
2
3
Pricing
Per-Event
Annual Membership + Per-Event
Annual Membership + Per Event
Click for Quote
Click for Quote
Click for Quote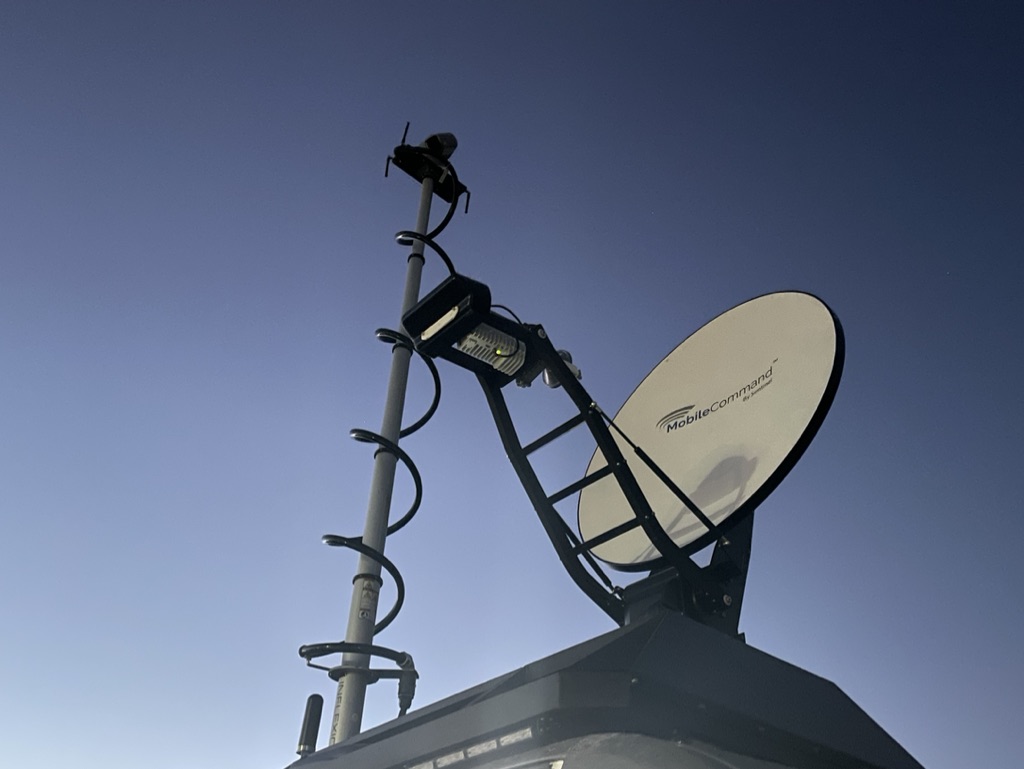 Equip Your Team
with the Right Tools
Unless you are a federal or state agency, you're hard pressed for the resources to stand up an efficient and economical temporary command center. This leaves you vulnerable to security threats. With Mobile Command, you can affordably access a state-of- the-art vehicle that is equipped with the technology you need; whether you are securing an event or responding to a disaster.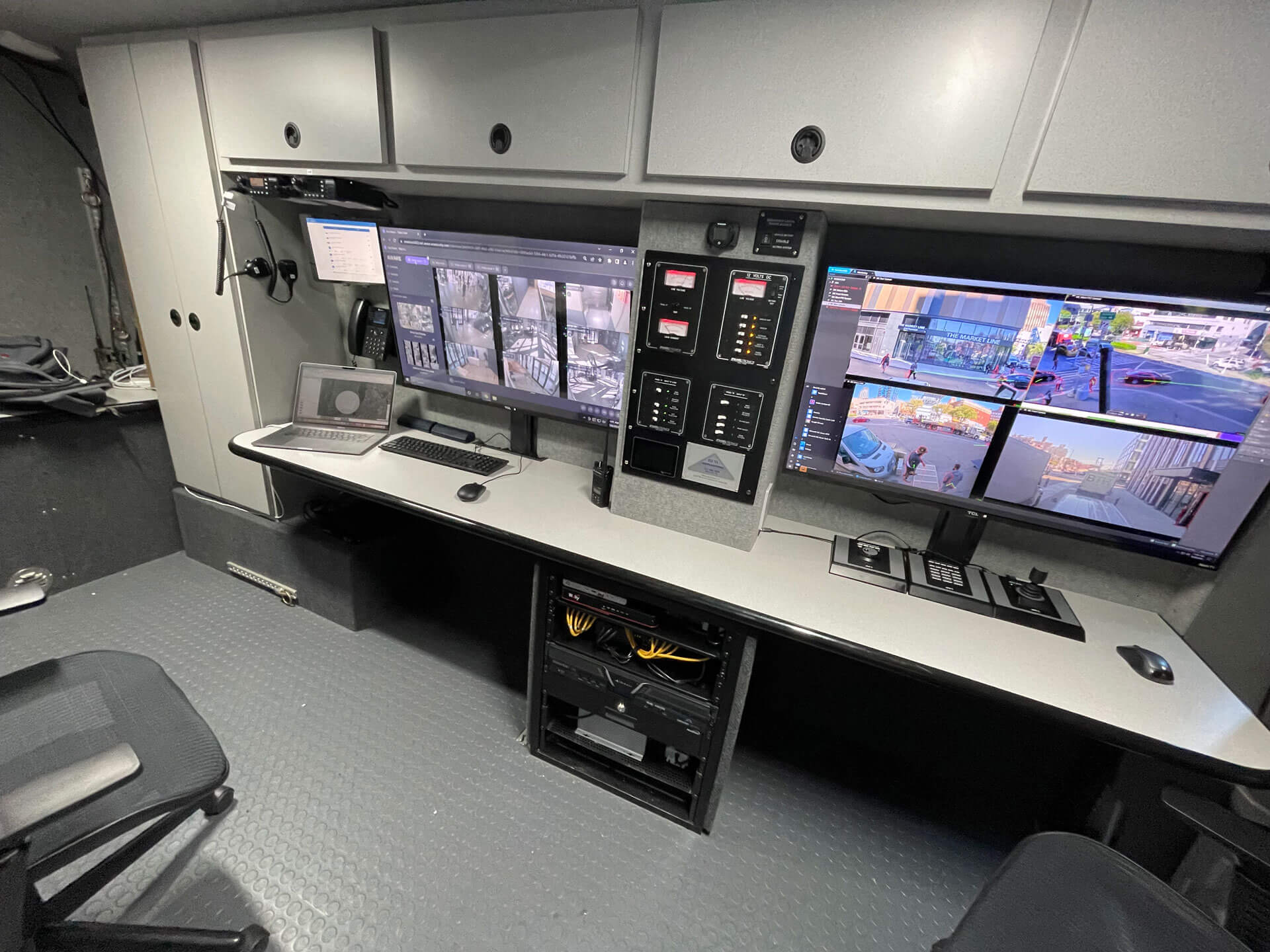 Be Prepared with
Mobile Command
Don't let a lack of resources leave you at risk. Become a member today!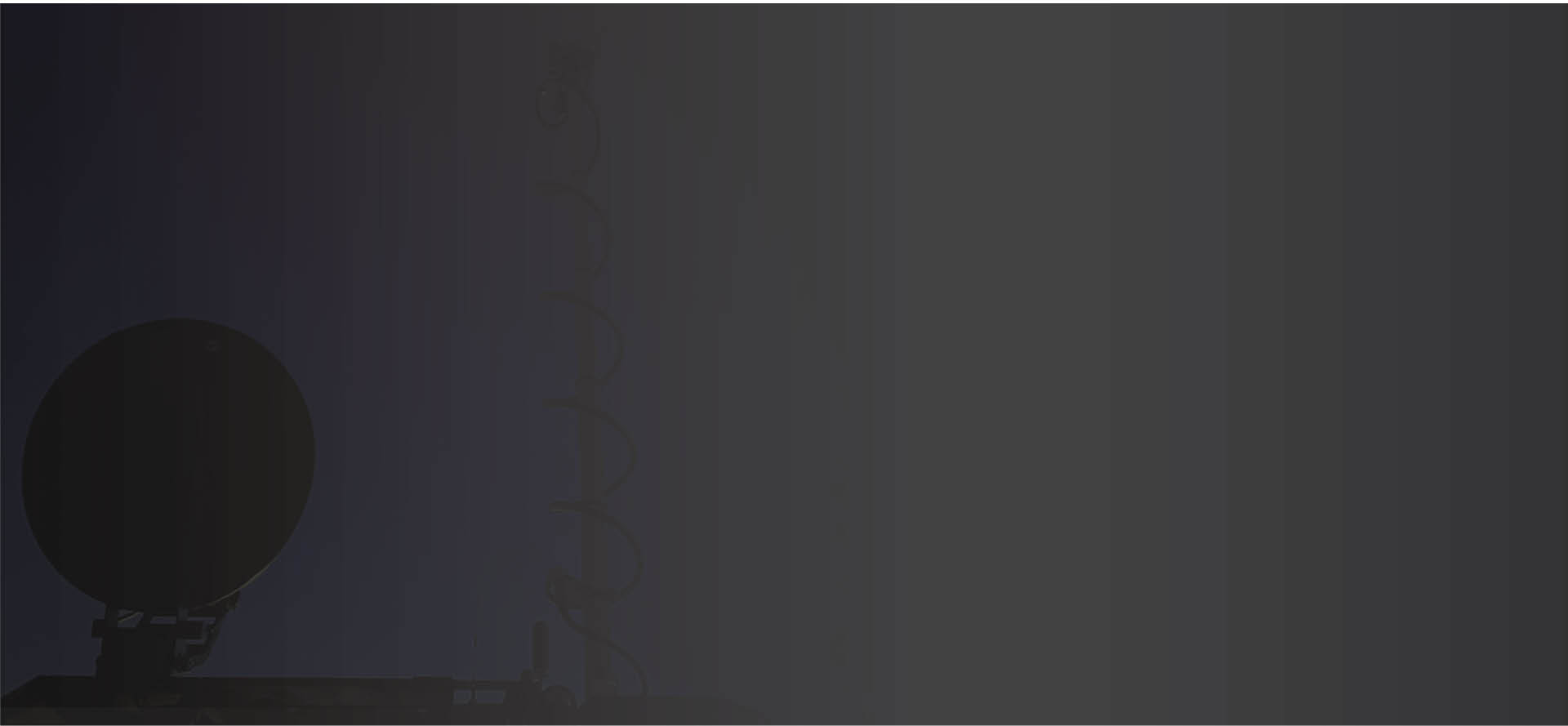 Frequently Asked Questions
We are not in the Tri-State area. Can you help me?
Yes, Mobile Command can provide service anywhere in the continental US for scheduled events. However, for rapid deployment, our current Mobile Command assets are located in the Northeast with the best response to clients between Washington DC and Boston.
For what types of events is Mobile Command best suited?
For how many days or events can I schedule the vehicle?
Are there any additional fees or add-ons beyond your base rate?
How many team members are required to operate the Mobile Command?
What is involved in the mobile command training? Do we learn to properly use the vehicle in accordance with our security plan?
What VMS is used on the Mobile Command?
What is the advantage of membership?
What does rapid deployment mean?
How long can we have the vehicle at our event?
How does the vehicle connect with our existing infrastructure?
Will we be required to purchase additional software or hardware devices for our property to fully utilize mobile command?
How are availability conflicts handled?